Welcome to the Invigorations Wellness Center Newsletter!
We're glad you have chosen to read our email! We hope to make it worth your time by keeping you informed of upcoming wellness events, specials, news, and tips. Thanks for keeping us updated should you get a new email address. You are receiving this newsletter because you are a client of Invigorations Wellness Center or you have asked to be on our mailing list. If you do not want to receive further mailings, unsubscribe now by clicking on the unsubscribe link at the bottom of this email. You may need to add Invigorations_Wellness_Center@mail.vresp.com to your address book so you'll be able to see our graphics and connect to our links.
If you have trouble viewing this newsletter...
Table of Contents
* Nancy is Back!
* Holiday Gift Certificate Specials
* The Perfect Fit
* Skin Bar Happy Hour
* Food for the Gods
* Communicating with Animals
Nancy is Back!
We wanted you to be the first to know that Nancy, LMT plans to start doing massage again on November 28. She has not been able to work since her terrible motorcycle accident Labor Day weekend. The good news is that she is alive and doing well!
Holiday Gift Certificate Specials

Check it out! Click on the link to our website to download a holiday flyer which is just the right size to leave around as a hint!
The Perfect Fit
Look no further for your holiday gifts. Dermalogica's holiday offerings fit everyone on your list from gift certificates to products. We have some "Perfect Fit" Sets made up with the three skin care basics PLUS a FREE Facial Brush or FREE Ultimate Buffing Glove.

*When you buy a product, ask for your FREE holiday box or bag to put your gift in.

*Have you heard of ALLURE magazine? Dermalogica's MultiVitamin Power Firm was awarded Best Eye and Lip Product in the Anti-Aging Category of the Allure 2006 Best of Beauty Awards. Just one of many awards that Dermalogica products have earned this year.

Just in time for the holidays!!
Skin Bar Happy Hour

For the Experiential Consumer...

Come to Invigorations on Tuesday, December 12 anytime between 3 and 6 pm

Where Consultation & Product Meet Skin

* Stop in for a FREE personalized FACE-MAPPING Session. Face Mapping is a skin analysis done by a professional skin care therapist to review the 14 zones of your face for skin care assessment. We will be using a special Skin Scanner which allows you to see a color coded & magnified view of your own skin.

* Participate in the Interactive Venue of the FREE Skin Bar. Sample the products, even take some home to try. We have the headbands, mirrors, and cotton balls.

* Buy a Dermalogica Product and receive a FREE Goody Bag

While you are there, sign up for the FREE GIVE-AWAYS:
The Daily Resurfacer -- Value $65 -- Unique 3-in-1 exfoliator for all skin conditions.
Raffles at 4:00, 5:00, and 6:00 pm
Food for the Gods

You might find "Food for the Gods" in your holiday snacks.

The Wonderful Walnut has a long history starting in Ancient Rome as a food fit for the gods and good medicine for the masses. In Medieval times health benefits were ascribed to foods that looked like body parts. Since the walnut looks like a brain it was used to treat head ailments and boost intellect.

Today, it is believed that walnuts help reduce risk for heart disease by lowering bad cholesterol and reducing inflammation. The Nutrition journal reported a study in 2005 showing that walnuts are one of the best food sources for melatonin, a powerful antioxidant.
Communicating with Animals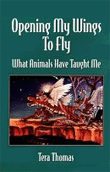 Invigorations is looking forward to hosting the "Communicating With Animals" Workshop facilitated by Tera Thomas, author of "Opening My Wings to Fly: What Animals Have Taught Me."

Tera is the founder of Hummingbird Farm, a 49-acre learning center and sanctuary. If you love animals and your pets, you'll want to come to this 2-day workshop APRIL 28 & 29, 2007.
This newsletter will bring you special notices, offers and discounts each month. Please let us know if there is a particular topic you would like to see discussed.

Sincerely,
Sharyn Madison, Center Director
(602) 753-1228
information@invigorationswellness.com
---
To unsubscribe, reply to this email with "unsubscribe" in the subject or simply click on the following link: Unsubscribe