Welcome to the Invigorations Wellness Center Newsletter!
We're glad you have chosen to read our email! We hope to make it worth your time by keeping you informed of upcoming wellness events, specials, news, and tips. Thanks for keeping us updated should you get a new email address. You are receiving this newsletter because you are a client of Invigorations Wellness Center or you have asked to be on our mailing list. If you do not want to receive further mailings, unsubscribe now by clicking on the unsubscribe link at the bottom of this email. You may need to add Invigorations_Wellness_Center@mail.vresp.com to your address book so you'll be able to see our graphics and connect to our links.
If you have trouble viewing this newsletter...
Table of Contents
* Holiday Specials
* Other Holiday Gift Ideas
* Healing with Massage
* Red Light

Holiday Specials

New for 2006!

HOLIDAY "SERIES" SPECIAL: Buy a "Series of Three" and receive $5 OFF each treatment. Good for Massage and/or Facial Gift Certificates.

Buy THREE one-hour SWEDISH MASSAGES for $150 (Savings of $15!)

Buy THREE one-hour RELAXATION or GENTLEMAN FACIALS for $165 (Savings of $15!)

Buying a Facial Gift Certificate? We have a limited number of FREE special edition gift certificate boxes for your facial gift certificate. Included is a complimentary package of hydro-active mineral salts for an aromatic stress reducing body soak. Nice!
Other Holiday Gift Ideas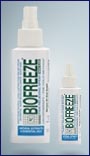 Since you've been asking…

YES! We have Cherry Pit Piillows! And we have several sizes, shapes, and colors!

YES! We have Biofreeze! It is available as a spray, tube, or roll-on. Biofreeze products are a unique, effective pain reliever formulated to provide a variety of benefits for therapy, pain relief, exercise/training and overall comfort. These products contain ILEX, an herbal extract from a South American holly shrub, used around the world in various health & wellness formulations. Biofreeze topical analgesic does not use waxes, oils, aloe or petroleum. The result is a fast-acting, penetrating, long lasting pain reliever.
Healing with Massage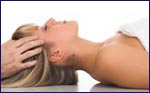 While a good massage can feel like pampering and be relaxing, there is also ample evidence that it can benefit many health conditions from back pain to sports injuries and tension headaches. Here are some notes continuing from our October newsletter.

Eating disorders. Massage can help those with anorexia or bulimia get in touch with and learn to appreciate their bodies. Research shows that people suffering from eating disorders who receive regular massages in addition to psychotherapy have less anxiety and depressions and better body images than those who just have counseling.

Headaches. If you get tension headaches, you may be able to ward them off by working with a massage therapist. Research suggests that people with migraines have fewer attacks and need less medication if they receive regular massage therapy.

Pregnancy and childbirth. Studies show that woman having massage therapy had fewer complications during labor, and fewer of their infants were born prematurely. In other studies, massage has been shown to lessen pain and anxiety during labor plus mothers who are massage during labor have shorter labors and less postpartum depression.
Red Light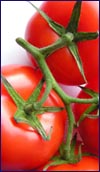 Any way you slice it, a tomato brings color, taste, and good nutrition to the table.

Tomatoes are terrific as a source of vitamin C, vitamin A, potassium, and fiber. Ever try any of these ways to serve a tomato?

Tomato & Green Olive Salsa
Baked parmeson Tomatoes
Tomato & Basil finger sandwiches
Greeen tomato chutney
Raw tomato sauce over pasta
Chicken salad stuffed tomatoes
Sliced tomato with pesto drizzle
Tomato & toasted cheese

If you would like to share some of the ways you eat a tomato, send us an email at information@invigorationswellness.com
This newsletter will bring you special notices, offers and discounts each month. Please let us know if there is a particular topic you would like to see discussed.

Sincerely,
Sharyn Madison, Center Director
(602) 753-1228
information@invigorationswellness.com
---
To unsubscribe, reply to this email with "unsubscribe" in the subject or simply click on the following link: Unsubscribe