Welcome to the Invigorations Wellness Center Newsletter!
We're glad you have chosen to read our email! We hope to make it worth your time by keeping you informed of upcoming wellness events, specials, news, and tips. Thanks for keeping us updated should you get a new email address.
You are receiving this newsletter because you are a client of Invigorations Wellness Center or you have asked to be on our mailing list. If you do not want to receive further mailings, unsubscribe now by clicking on the unsubscribe link at the bottom of this email.
You may need to add Invigorations_Wellness_Center@mail.vresp.com to your address book so you'll be able to see our graphics and connect to our links.
If you have trouble viewing this newsletter...
New Bodyworker

Welcome to our new massage therapist, Julie Burns, LMT. Julie is a graduate of Onondaga School of Massage and has the gift of touch that you will appreciate.

New Bodywork Technique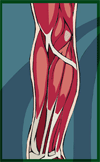 Janet Hanna, LMT, is back from volunteering at the Aaron Mattes rehabilitation clinic in Sarasota, FL. Aaron developed A.I.S., Active Isolated Stretching. AIS requires a skilled therapist such as Janet who can isolate fibers of the muscles one layer at a time to stretch, strengthen, and realign them and restore range of motion.
When a muscle is injured, inflammation sets in cutting off the blood supply and nutrition resulting in a toxin build up, then adhesion formation, then restriction. In effect, the muscle splints itself. AIS can help to reverse this entire sequence. It's quite amazing.
If you or someone you know has limited mobility from an injury or aging, encourage them to try a session of AIS. Soccer injury? Over exercising? Send them in. By the way, wear comfortable clothes for your AIS session.
Body Wisdom

HARNESS THE POWER IN PERSPIRING! In many societies, sweating is a sought-after passive experience induced through steam and sauna "Sweat Bathing." The mild hyperthermia increases the circulation of blood, increases lymphatic drainage, increases white blood cell count which strengthens the immune system and it can cleanse, detox, and relax the body and mind.
Sweat bathing is a terrific complement to massage and bodywork. Caution: understand your limits if you have a respiratory illness, extreme heart condition, or are pregnant.
Stop by and pick up our brochure for our newest treatment "DETOX."
Tidbits...

If you have been to Invigorations lately, I hope you picked up your free sample of Biofreeze. No? Stop by and get some. While there, say hi to Nomee and Cheddar Chi, our "Therapy Cats in Training."
Speaking of freeze, have you heard of ".ICE" – "In Case of Emergency"? Put .ICE in your cell phone memory and have the phone number as your emergency contact. Then in case of an emergency, if paramedics or police have your cell, they can find the ICE contact. If you include the period in front of the ICE, it will come up as the first entry in your list.

Time for Holiday Specials
Say, it's nearly holiday and family time. Ready for some specials? We are bringing back our popular Relaxation Package! Only $99 for a full Swedish massage, an hour relaxing facial, and a heat treatment of your choice. We have more specials so stop by or visit our web site today! Happy Fall and Happy Day wishes to you.

See Our Holiday Specials ~ Order a Gift Certificate Now!
"It's not how far you fall but how high you bounce."
See you at Invigorations! Arrive early, enjoy a cup of tea, and relax.
This newsletter will bring you special notices, offers and discounts each month. Please let us know if there is a particular topic you would like to see discussed.

Sincerely,
Sharyn Madison, Center Director
(602) 753-1228
information@invigorationswellness.com
---
To unsubscribe, reply to this email with "unsubscribe" in the subject or simply click on the following link: Unsubscribe