Welcome to the Invigorations Wellness Center Newsletter!
We're glad you have chosen to read our email! We hope to make it worth your time by keeping you informed of upcoming wellness events, specials, news, and tips. Thanks for keeping us updated should you get a new email address. You are receiving this newsletter because you are a client of Invigorations Wellness Center or you have asked to be on our mailing list. If you do not want to receive further mailings, unsubscribe now by clicking on the unsubscribe link at the bottom of this email. You may need to add Invigorations_Wellness_Center@mail.vresp.com to your address book so you'll be able to see our graphics and connect to our links.
If you have trouble viewing this newsletter...
Table of Contents

* Welcome to Nicole Fox, LMT and Colleen Coffey, MHC
* Prosperity Seminar Series
* Breast Cancer Fundraiser Event: Party Lite Candles
* Dermalogica Wins Highest Honor!
* Focus on Therapy
* Organic Options at the Produce Bin
Welcome to Nicole Fox, LMT and Colleen Coffey, MHC
Nicole joins the staff at Invigorations having recently returned to the Phoenix area from Buffalo. She worked at the Buffalo Massage Therapy Center closely with Dr. Purturiero, a chiropractor there. Nicole is a graduate of the Chicago Institute of Massage in Chicago, IL and has been a licensed massage therapist since early 2004.

Colleen is a Arizona State licensed mental health counselor. She works with children, adolescents and adults on various issues related to anxiety, depression, anger management, communication skills, relationship skills and social skills to name a few. This mental health practitioner has a background in using expressive therapies to accompany psychotherapy techniques in order to facilitate the therapeutic process.
Prosperity Seminar Series

Seven Week Series on Wednesdays from 7 - 8 PM
October 18 - December 6, 2006
Presenter: Shawnee Abbey
Place: Invigorations
Cost: $30 includes Textbook and Materials

**Pre-Registration Required. Call Invigorations at 753-1228**

"Are you looking for Prosperity in your life? Do you have problems creating more wealth, health, and plenty in your world? If you answered, "Oh Yeah!" to these questions, this may be the course for you. Help make your season bright and get ready for a prosperous, healthy New Year."
Breast Cancer Fundraiser Event: Party Lite Candles

Our PartyLite Candle Company distributor, Carla Nielson, will be at Invigorations with "Cash & Carry" candle items and accessories three different times during the month of October.

Wednesday, October 18, 7-9 PM
Friday, October 27, 12-5 PM
Saturday, October 28, 9 AM -3 PM

Carla will also take orders from the NEW Fall catalog. Stop by or phone in your order to Invigorations at 753-1228. This is a Breast Cancer Fundraiser event.
Dermalogica Wins Highest Honor!
Over 4,000 women in the beauty industry named Daily Resurfacer the Best Facial Skincare Cleanser and Scrub for the 2006 Beauty Insider's Choice Awards! Get your hands on this amazing treatment that resurfaces, smoothes, and brightens. Stop in for a FREE sample.
Focus on Therapy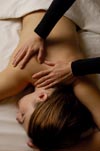 Research shows once again that MASSAGE is more than pampering and relaxing. As many of you already know, massage treatment can benefit many health conditions. Several studies I'll mention in this newsletter and the next will highlight just a few.

Anxiety and Depression. Massage's most powerful effects were the reduction of anxiety and depression "similar in magnitude to those of psychotherapy." Psychological Bulletin

Back Pain. Massage relieves symptoms and increases the function of people with chronic back pain according to a review of published studies. Annals of Internal Medicine

Breast Cancer. Breast cancer patients who received three massages a week for five weeks had less anxiety and depression and improved immune function, including an increase in natural killer cells. Journal of Psychosomatic Research. Note: Avoid massage over any known tumor.

Fibromyalgia. People with this chronic condition experience widespread pain and often have sleep problems, but research shows massage can help on both counts. After receiving massage twice a week for five weeks, fibromyalgia patients had less pain and lower levels of substance P, and slept better. Journal of Clinical Rheumatology. Note: Avoid deep tissue work.

Sports Injuries. Massage can relax and soften injured and overused muscles, and research shows that it can significantly reduce the intensity of muscle soreness following strenuous workouts. Massage may also help with injuries like tendonitis or sprains. Andrew Weil. Note: Ask for AIS (Active Isolated Stretching) treatments to bring significant healing and pain relief to injuries.
Organic Options at the Produce Bin

Consumer's Guide on where to put your money

It would be nice if we could all consume the wonderful organic products that are now more and more available to us. Unfortunately, organic produce often costs up to 50% more than conventional produce. So the Environmental Working Group, a nonprofit, nonpartisan organization pored over test results for pesticides on 46 popular produce items. Here is a list ranking the most to least commonly contaminated produce to help you decide which fruits and vegetables to buy or not buy organic.

Preferable to BUY ORGANIC
Peaches, Pears, Strawberries, Cherries, Apples, Potatoes, Bell Peppers, Spinach, Nectarines, Raspberries, Grapes (imported), Celery

BUY ORGANIC if budget allows
Carrots, Kale, Green Beans, Mushrooms, Hot Peppers, Cantaloupe, Sweet Potatoes, Oranges, Apricots, Grapefruit, Winter Squash, Cucumbers, Tomatoes, Blueberries, Collard Greens, Watermelon, Grapes, Plums, Turnip Greens, Tangerines, Honeydew, Cabbage, Lettuce

It's Your Call
Papaya, Peas, Kiwi, Mango, Bananas, Cauliflower, Broccoli, Pineapple, Onions, Avocado, Asparagus, Corn
This newsletter will bring you special notices, offers and discounts each month. Please let us know if there is a particular topic you would like to see discussed.

Sincerely,
Sharyn Madison, Center Director
(602) 753-1228
information@invigorationswellness.com
---
To unsubscribe, reply to this email with "unsubscribe" in the subject or simply click on the following link: Unsubscribe