Welcome to the Invigorations Wellness Center Newsletter!
We're glad you have chosen to read our email! We hope to make it worth your time by keeping you informed of upcoming wellness events, specials, news, and tips. Thanks for keeping us updated should you get a new email address. You are receiving this newsletter because you are a client of Invigorations Wellness Center or you have asked to be on our mailing list. If you do not want to receive further mailings, unsubscribe now by clicking on the unsubscribe link at the bottom of this email. You may need to add Invigorations_Wellness_Center@mail.vresp.com to your address book so you'll be able to see our graphics and connect to our links.
If you have trouble viewing this newsletter...
Welcome to our new LMT, Dan Gurvich

We are pleased to announce that Dan Gurvich, NY State Licensed Massage Therapist, has joined our staff of professionals.

Relocating to Ithaca from Manhattan, Dan was born in St. Petersburg, Russia and grew up in Rochester, NY. When in Manhattan, Dan was a voice instructor at Arizona State University. He is a trained operatic baritone who has performed with Boston Lyric Opera, National Opera Company, and the Tanglewood and Aspen Music Festivals.

It was during his training as a singer that Dan first discovered the healthy benefits of mind-body connection. He has practiced Hatha yoga and Vispassana meditation, and felt the healing effects of massage for himself before making the decision to become a massage therapist.

Dan is passionate about expanding his knowledge of various massage modalities through advanced training and workshops. He has completed Level I training in the Trager Approach and will begin training in the Rosen Method this summer.

His wife, Soprano Deborah Lifton, is an Assistant Professor of music at Ithaca College.
Father's Day Is Coming!!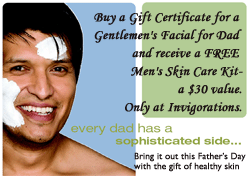 What can you buy Dad for Father's Day?? Here are some ideas:

*Dermalogica Skin Care Products especially suitable for men's skin: Active Moist, Clearing Gel, Skin Prep Scrub, Professional Shave, Skin Kits, Travel Kits

*Burt's Bees products

*Cherry Pit moist heat pillows

*Gift Certificate

Try these SPECIALS...

FOR FATHER'S DAY "Dad Value Deals" (Father's Day is June 18th!)

The Massage Deal
Buy Dad a Gift Certificate for a MASSAGE! With every Hour or Half Hour Massage gift certificate, Dad will receive a FREE heat treatment. He can choose time in the infra-red sauna, the steam cabinet, or get a hand paraffin treatment. Good for a Half Hour or Full Hour Massage Gift Certificate.

The Facial Deal
Buy a Gentleman's Facial Gift Certificate and get a FREE Men's Skin Care Kit for Dad, a $30 Value! Gentleman's Facial is a relaxing treatment including a deep cleansing, hot towels, and a treatment mask all designed for men's skin.

The Package Deal
Buy the whole tamale—the Relaxation Package for $115. One Hour Swedish Massage, One Hour European Facial, and One Heat Treatment of Your Choice.

Other ideas: Neck and Back Chair Massage, Spa Foot Treatment, and more OR…any dollar amount and let Dad choose what he wants.

These Specials available through June 19, 2006. Gift Certificates good for use until June 2007.
JUST IN! Brand new SOLAR DEFENSE products!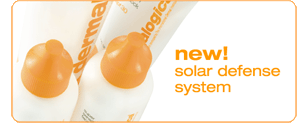 Skin, the Ultimate Record Keeper

Every moment we are exposed to daylight adds up like money in the bank. The payoff? Wrinkles, hyperpigmentation, premature aging, repressed immune system, and potential for skin cancer. One in five Americans will develop skin cancer. The increase in cancer cases is a global phenomenon. The best defense? Limit daylight exposure and protect the skin with sunscreen at all times.

Dermalogica's new solar defense system and UV Smart Booster Technology

FIRST NEW ENHANCEMENT: We now have photoprotection designed for specific skin conditions.

TEN PRODUCTS TO CHOOSE FROM: Oil Free Matte Block (Oily skin), Super Sensitive FaceBlock (Sensitive skin), Extra Rich FaceBlock (Dry skin), MultiVitamin Body Block, WaterBlock Solar Spray (a cool spray for the beach), Ultra Sensitive(with foundation), Wipes (easy to apply!), and Solar Shield for the lips. If you do get burned, we have the wonderfully soothing and healing After Sun Repair. Call if you want to mail order.

SECOND NEW DEVELOPMENT: I am so excited about this…we now have products that give you three means of protection because of the new technology. With the new Dermalogica Solar Defense you have protection from UVA and UVB rays using reflective and absorption ingredients AND there is a DNA microcapsule that puts antioxidant Vitamins C and E on your skin for free radical protection and maximum solar defense. Now the cool part is that this DNA capsule is formulated to release the vitamins when triggered by exposure to UV light. So these active vitamins are safeguarded until needed! Isn't that amazing? This is what you need for great protection!!

Stop by for a FREE SAMPLE.
Invigorations Closed July 3-4

Final Note: Invigorations will be closed Monday and Tuesday, July 3rd and 4th. Enjoy your Holiday!
This newsletter will bring you special notices, offers and discounts each month. Please let us know if there is a particular topic you would like to see discussed.

Sincerely,
Sharyn Madison, Center Director
(602) 753-1228
information@invigorationswellness.com
---
To unsubscribe, reply to this email with "unsubscribe" in the subject or simply click on the following link: Unsubscribe