Welcome to the Invigorations Wellness Center Newsletter!
We're glad you have chosen to read our email! We hope to make it worth your time by keeping you informed of upcoming wellness events, specials, news, and tips. Thanks for keeping us updated should you get a new email address. You are receiving this newsletter because you are a client of Invigorations Wellness Center or you have asked to be on our mailing list. If you do not want to receive further mailings, unsubscribe now by clicking on the unsubscribe link at the bottom of this email. You may need to add Invigorations_Wellness_Center@mail.vresp.com to your address book so you'll be able to see our graphics and connect to our links.
If you have trouble viewing this newsletter...
Table of Contents
* Mother's Day Specials
* Secretary's Day
* Heading to the Beach?
* Solar Defense
* Smart Booster Technology
* 10 Important Reasons for Strength Training
* 10 Ways to Upgrade Your Meals in Seconds
Mother's Day Specials!

Mothers Day is May 13!

Looking for a thoughtful gift for your mom? One of our relaxing spa packages will give her the pampering she deserves!
REMINDER! SECRETARY'S DAY IS WEDNESDAY, APRIL 25!
A nice recognition and thank you gift can be found at Invigorations like a gift certificate for a service or healthcare products. Purchases are as easy as:
* Ordering online
* Call and we will direct mail to you
* Or stop by!

Heading to the beach?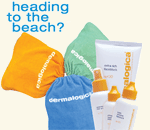 Receive a free Dermalogica towel that folds up and becomes a beach bag!!

Buy a couple Dermalogica products including a Solar Defense product that add up to $85 and the gift is yours.

Speaking of Solar Defense...May is National Skin Cancer Awareness Month
We are all becoming more savvy about sunscreens -- buying good ones and then the importance of using them. Further good news is that so are the skin care product companies. More and more are including protection from BOTH UVA and UVB in their sunscreens! That is a must.
Read more about Solar Defense
And NOW THIS--Have you heard about the "Smart Booster Technology"?
Smart Boosters are capsules that contain an active complex of those great antioxidants Vitamins C and E. These are vital to protect your skin from the free radical damage that leads to aging factors like wrinkling and collagen destruction.

These capsules are found in the new Dermalogica sunscreens and what makes them so smart is that they preserve the vitamins until the UV rays strike. THEN the booster bursts to activate this maximum solar defense.

Dermalogica is currently the only company that has this state-of-the-art protection. When you thought it couldn't get better, read on. The sunscreen formulations have been customized for your skin type. So you can choose the right one for you whether you have oily skin, dry skin, or even sensitive skin. Amazing. Stop in at Invigorations for your FREE sample.

When you visit Dermalogica's web site, choose a product to read about, click on it, then click on "See Why the Press Loves This Product" to read information such as Dermalogica helps Kate Hudson shine on the set of her new movie.
10 Important Reasons Why You Should Be Strength Training
1. You'll build power
2. You'll be more energetic
3. You'll feel tougher
4. You'll strengthen your bones
5. You'll be able to eat what you want (within reason)
6. You'll feel younger longer
7. You'll balance your body
8. You'll be more explosive for when your sport or activity requires it
9. You'll reduce your risk of injury
10. You'll smile more

Talk to Patty at the Fitness Center for more information on each of these benefits.

Researched by: Patty O'Mara, Certified Personal Fitness Trainer, Nutrition/Weight Management Consultant, Sports Nutritionist, Aerobic & Hatha Yoga Instruction, Wellness Program Coordinator
ONE MORE TOP TEN LIST
Here are 10 ways to UPGRADE your MEALS nutritionally IN SECONDS!

1. Add 1-2 T of wheat germ to your cereal, yogurt, or smoothie.
Wheat germ is loaded with minerals, vitamin E, fiber, protein, omega 3, and folate.

2. Sprinkle cinnamon on your cereal, yogurt, bagels, or toast.
Cinnamon health benefits come through its ability to enhance the action of insulin. Boosting insulin activity improves glucose and cholesterol metabolism which can help protect against type 2 diabetes and cardiovascular disease.

3. Add broccoli sprouts to your salad and sandwiches.
These have fiber and vitamin C. Regular broccoli is the anti-cancer superstar of foods and the sprouts have even more of the sulphoraphane, the natural cancer-prevention agent.

4. Add sun-dried tomatoes to your pizza, pasta and sandwiches.
Tomatoes are another superstar with fiber, B vitamins, potassium, vitamin C, and lycopene which is well known for prostate cancer protection.

5. Add salsa to your eggs, veggies, pastas, or poultry dishes.
Fresh salsa boosts your intake of lycopene, vitamin C, potassium and fiber. Every ingredient in salsa is healthy!

6. Add turmeric or curry to your bean, poultry, and rice dishes.
Curcumin is the yellow pigment famous for its anti-inflammatory power. Populations with the highest intake of these spices has the lowest rates of Alzheimer's.

7. Go nuts! Throw them into soups, salads, sauces, or prepared dishes.
Nuts have several nutritional benefits, most of which are specific to cardiovascular health. Eating an ounce of nuts 5 days a week can reduce risk of heart disease by 30-55%.

8. Add canned pumpkin to soups, pancakes, muffins, and even corn bread.
Low in calories, high in fiber, and giving the most concentrated cocktail of disease-busting carotenoids known. This is for the health of your heart, eyes, skin and immune system.

9. Add pesto to your sandwiches, sauces, and pastas.
This is 100% pure heart-healthy ingredients—basil, parmesan cheese, pine nuts, garlic and olive oiil.

10. Top it off with berries! (frozen or fresh)
Berries are one of the top ten super foods loaded with fiber, vitamin C, folic acid and super-potent antioxidants.

From "Wellness Works" with Dr. Ann Kulze, M.D.
This newsletter will bring you special notices, offers and discounts each month. Please let us know if there is a particular topic you would like to see discussed.

Sincerely,
Sharyn Madison, Center Director
(602) 753-1228
information@invigorationswellness.com
---
To unsubscribe, reply to this email with "unsubscribe" in the subject or simply click on the following link: Unsubscribe